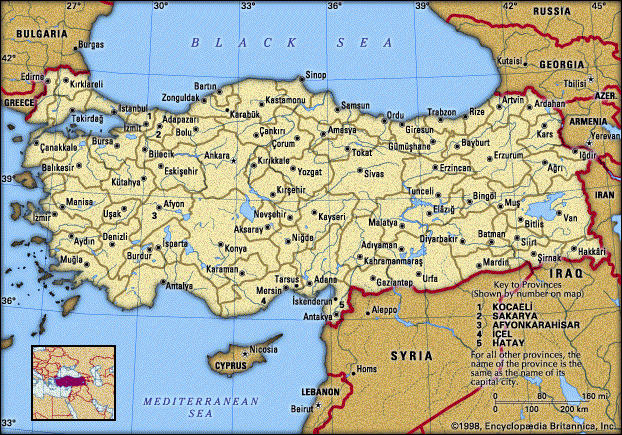 British Prime Minister David Cameron is
lobbying for Turkey to join the European Union.
Why? Because Turkey is becoming a major regional (and perhaps global) player on the world stage.
With Europe nudging to the West, and borders with Iran and Iraq too, the prime minister will argue that Turkey's geographic position gives it "unrivalled influence" facing both East and West.
Turkey has the second biggest army in Nato, and has been an important ally in the war in Afghanistan.
Despite a recent sharp spat with Israel over the raid on the Gaza flotilla, Turkey has an important role as a broker in the region, having worked to bring an end to disputes between Israel and Syria.
And with its young population of more than 70 million, Turkey's economy is surging, and its growth is expected to outpace India by 2017.
It is also an important junction for oil and gas pipelines heading West.
So for economic and political reasons, the appeal of a closer friendship between Turkey and the UK is obvious. But there are potential pitfalls.
However, some are concerned that
Turkey is closer to its fellow Muslim neighbors in the Middle East
, than any European country.
In the city's bazaars, pistachio vendors summon passers-by in Arabic, while Arabic courses for Turkish businessmen are flourishing. Marriages between Turks and Syrians have become more common.
In Syria, meanwhile, where the alliance with secular Turkey represents a move away from its courtship with Iran, Turkey's blend of conservative Islam and cosmopolitan democracy is increasingly viewed as a model in the younger generation. Turkish soap operas and films are attaining cult status, while "Made in Turkey" labels near the cachet of Paris or Milan.
Perhaps Turkey will "Westernize", perhaps Turkey will "Arabize", or perhaps Turkey will continue to develop some hybrid between the two - a socially conservative (sexually-restrained) consumerist democracy, not unlike a culturally-Islamic United States. The Anatolian peninsula that Turkey takes up has been a cultural crossroads for several millennia, so this could be the region's return to form.